Winter camping in an Airstream certainly has its rewards and this was definitely one of them. Sure it was 27 degrees on the first morning of the New Year with ice all over the roads (in patches, at least) that we decided to tow our Airstream to South Beach on San Juan
Island< st1place>. We were on a mission. After all, if you snooze, you loose and in this case, there was no time to waste. We were after a prime spot to camp our Airstream for the day that had amazing views at this glorious beach. After a few white knuckle moments on the road (and my heart pounding nearly out of my chest), our mission was accomplished and a hot breakfast of Simple Apple Tarte Tatin followed by beachcombing and a day hike was about to begin.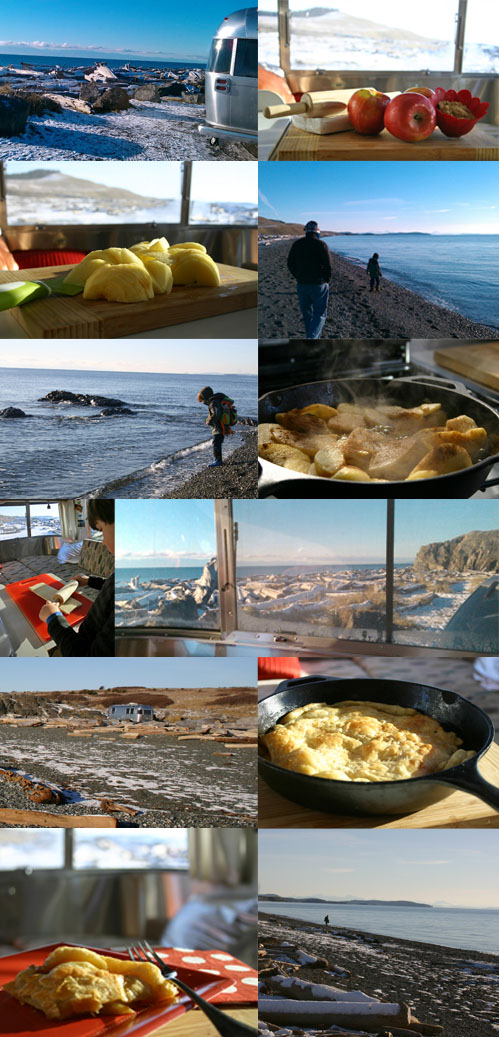 Simple Apple Tarte Tatin
You will need:
an ovenproof pan (cast iron is excellent)
1 sheet of frozen puff pastry
1/2 cup brown sugar
2 tablespoons of butter
3 large apples (I suggest honeycrisp) – peeled, cored and thinly sliced
1/4 teaspoon ground cinnamon
Instructions:
Preheat the oven to 400F
Melt the butter in your ovenproof pan and add the sugar cooking both until the mixture starts to caramelize.
Once the mixture has caramelized, add the sliced apples and cinnamon.  Cook over medium heat for about 10 minutes or until the apples start to turn tender.
While the apple mixture is cooking, roll out your pastry dough into a circle that is big enough to cover the surface of your ovenproof pan.
Once your apple mixture is ready, drape your pastry over the apples in the pan and tuck in the edges of the pastry down inbetween the apples and sides of your pan.  Poke a few holes in the top of the crust and bake for approximately 25 minutes (or until the pastry turns a beautiful golden brown).
Cool the tarte tain for as long as you possibly can stand (the smell is amaznig) and then invert onto a serving platter.  In our case, we didn't wait and devoured it piping hot.
This will serve about 8 people, or less depending on how hungry everyone is.