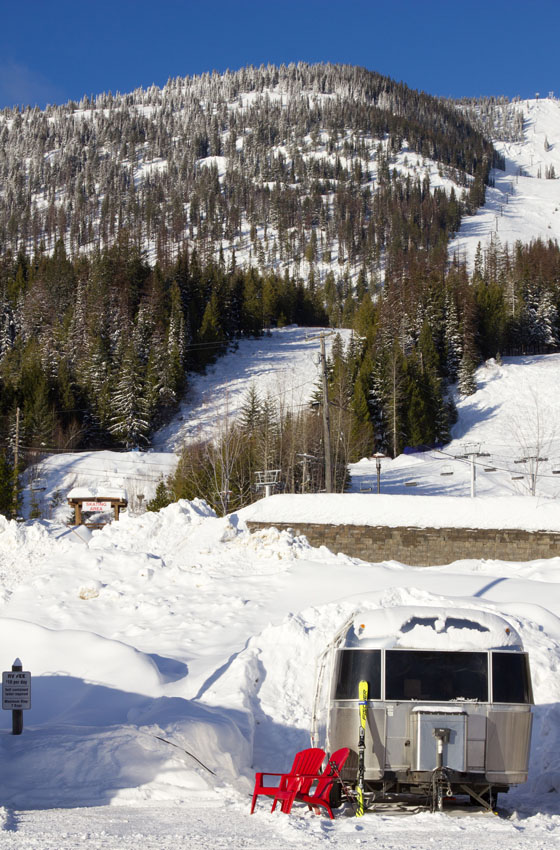 Spending 10 days in the Airstream on a cat skiing vacation in the the middle of old man winter is an incredible experience.  You are warm, cozy and it feels great to be so off the grid knowing you are totally self contained and comfortable.  Conserving and enjoying life — the way it should be.  Here is our spot at the base of Red Mountain in Red Mountain Resort.  We are in British Columbia – specifically Rossland.
It is truly absolutely beautiful here.
Red Mountain Resort has been delivering incredible skiing longer than any other area in Western Canada, with the first recorded powder turns in 1896. With accolades ranging from "Best Authentic and Funky Resort Experience" to "Best Powder, Best Trees, Best Steeps", to "Best Fall Line Steeps" and one of the "Top 5 Free ride Spots", Red Mountain Resort is the hidden jewel of BC's Kootenay Rockies region.
On this beautiful morning, we awoke to blue sunny skies.  To help the boys get on with their big morning of skiing I prepared buckwheat cakes for breakfast.  These were delicious!  Have you ever baked/cooked with buckwheat flour?  It really is delicious and did you know that aside from it's name, it does not contain any wheat?  It's perfect for a gluten-free diet.  Of course this recipe also contains flour that does have gluten, but you could use pure buckwheat flour if you are gluten-free.

Again I would like to thank Matt Small for his amazing ski photography!  He is one of our ESPN photographers that have graciously accompanied us on our trip!  Thank you Matt!!
Today Matt was photographing Erik Kalacis! Erik created and built an international sports and TV production company with clients including Swatch, Kokanee, General Motors and Salomon.  Erik was the pioneer behind the popularization of Boardercross (now Snowboardcross) and Ski Cross, which are now Olympic sports events.  He now enjoys being the Vice President of Sales and Marketing for Red Mountain Resort.  It was the biggest honor for me to meet Erik.
What a very kind, nice guy he was to me and everyone in our group  — and did I mention what an awesome skier he is?

Sweeping views of the Kootenay Rockies . . .